Renowned football Astrologer, Dr. Anita Nigam returns to the soccer spotlight with predictions for the upcoming world cup in Russia. As a seasoned and efficient predictor, she has been able to predict correctly past world cups since 1994 and has etched her name alongside the greatest predictors of this lovely Game.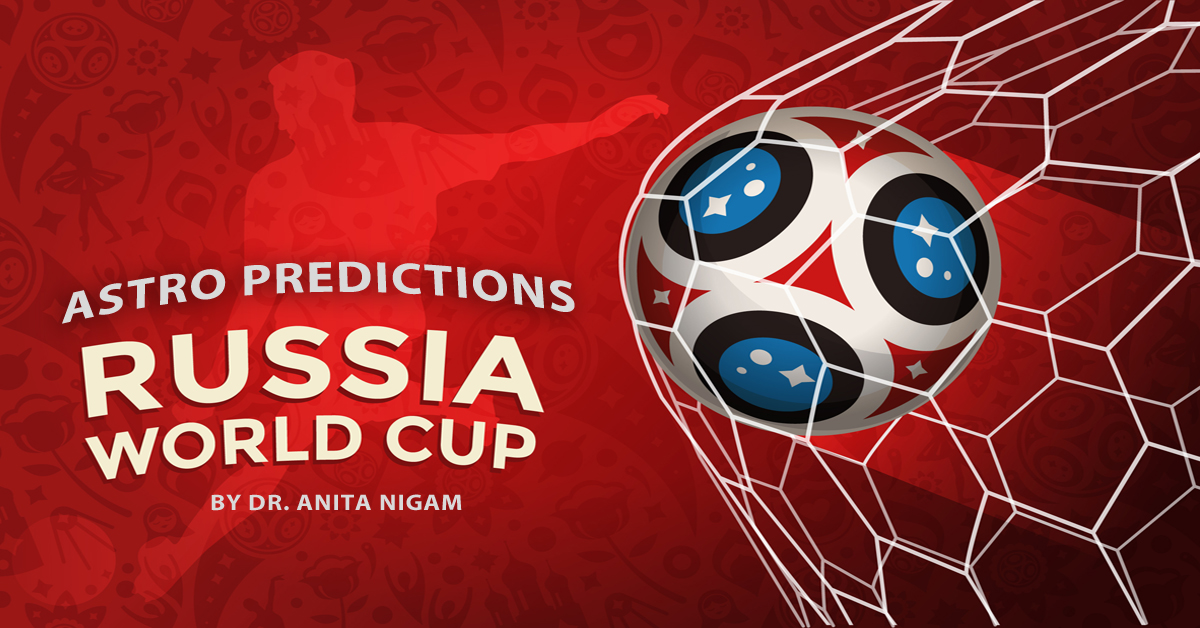 When it comes to predictions sometimes it is hard to find truthful people that predict correctly the outcome of events. Dr. Anita Nigam proves that statement false. As an acclaimed Vedic Astrologer she has been able to make highly respectable predictions that turns out to be true. With an M.A in Anthropology from Lucknow University, she delved into Astrology in a scientific way and studied Joytish Praveen and Joytish Visharad and got her knowledge from the Indian Council of Astrological Sciences, Delhi Chapter. Known for being a pioneer of Sports Astrology back in 1990, Dr. Nigam has been a dominant figure in helping predict the future outcomes of sports such as Cricket, Soccer, Hockey, Rugby and Lawn Tennis. Also, as the dotcom bubble increased around 1998, Dr. Nigam was the first female Astrologer from India to adventure into the Internet space with the advent of Astrological services.
Read: Astrological Football Predictions of World Cup Russia 2018
        One of the predictions that brought Dr. Anita Nigam world fame was her Soccer Predictions. This started in the World Cup of 1994 as all predictions of the World Cup matches and its events from Dr. Nigam proved true and were correct. Some of her stunner predictions at the World Cup included the unbelievable revelation that team Bulgaria will come out winners against the mighty Germans in the 1994 world cup quarterfinal and the eventual winners of the event would become Brazil. These predictions brought her to the spotlight and she became revered in the sports world for her accuracy in Soccer Predictions.
         Another highlight of Dr. Nigam's career as a Vedic Astrologer and Football Predictions expert came in the 2002 World cup after a perfect prediction of Senegal's win against France and also the Euro Cup of 2004. At the Euro's she gave a resounding prediction of Greece becoming champions and some of her predictions for the Euro cup can be seen on YouTube.
        Over the years her predictions for Football and Cricket championships have been 80% correct putting her ahead of Octopus Paul and others. As the 2018 World Cup approaches she is back to give her predictions for this upcoming event and continue to prove her quality as an expert in predictions. According to her the stars of Brazil, Germany, Spain, Argentina & Portugal are bright but can't see Portugal holding the cup this time. This time England's and Uruguay's performance will be exceptionally well. Some Asian countries will show excellent football but cup is far away for them. Also there will be some shocking outcomes also. Don't expect much from star players though they perform well but golden boot will not go to them. Some of her predictions can be seen Online.
About Dr. Anita Nigam
Dr. Anita Nigam is an award winning Vedic astrologer from India. With over 27 years of experience in the field of Numero-Astrology, she has had an impact by making many accurate predictions on life, relationships, career, progeny, education, business, national and international events, natural calamities, wars, Bollywood and Hollywood personalities, political personalities, predicted uncounted correct sports predictions which has enriched the lifestyles of millions of individual across the globe through her astrological guidance. As a specialist in her field and an associate of astrology portals such as astroyogi.com, astrospeak.com, ganeshaspeaks.com, truthstar.com etc she has been featured in numerous national and international televisions, newspapers, online newspaper, blogs, radio for various predictions and astrology talk shows, proving her worth as the best.     
Company Name: Anita Universe
Contact Person: Dr. Anita Nigam
Email: anita@anitauniverse.com
Phone: +91-9582428075
Address: Palava City, Thane, Maharasthra – 421204
Country: India
Website: http://anitauniverse.com